Software Testing Standard Iso Iec Ieee 29119
ISO/IEC/IEEE 29119 Software Testing är, och kommer bli, en serie standarder som ska slå samman standarder som behandlar mjukvarutest.
Introduktion
Det finns som bekant en rad standarder som är intressanta när man pratar mjukvarutest. En av de mest kända är IEEE 829, som handlar om testdokumentation. Andra handlar om granskning (se till exempel Metod För Formell Granskning). Det finns även standarder för vokabulär (men även ISTQB tillhandahåller till exempel ordlistor, se sstb.se: [1]).
ISO/IEC/IEEE 29119 Software Testing är, och kommer bli, en serie standarder som ska slå samman de tidigare - vilket får mig att tänka på XKCD #927 Standards (se [2]) där man med lite humor bara ersätter en massa konkurrerande standarder med ännu fler konkurrerande standarder. Så är nog inte fallet nu - lyckligtvis så samarbetar ISO, IEC och IEEE om en gemensam standard.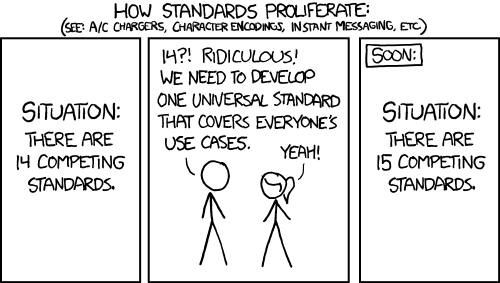 De delar som är mer eller mindre klara är:
Concepts & Definitions (Sep 2013)
Test Processes (Sep 2013)
Test Documentation (Sep 2013)
Test Techniques (2014?)
Keyword Driven Testing (2015?)
En introduktionsvideo av Stuart Reid finns på Youtube: [3]
Part 1 - Concepts & Definitions
De koncept och definitioner som tas upp i del 1 är bra för att få en samling begrepp inför de kommande delarna. Som ordlista är den ok, men dyr. Vill man bara ha en samling glosor tror jag man ska kolla in materialet från ISQTB istället.
Det som även är bra är att den tar upp olika ämnen - som till exempel Riskbaserad Testning. Men här måste jag väl påstå att man inte direkt kan använda standarden som mall i sitt dagliga arbete, snarare en kompass till vad man bör undersöka mer. Ämnen som behandlas är:
Introduction to Software Testing
Software Testing in an Organizational and Project Context
Generic Testing Processes in the Software Life cycle
Risk-based Testing
Test Sub-process
Test Practices
Automation in Testing
Defect Management
Annex A:The Role of Testing in Verification and Validation
Annex B: Metrics and Measures
Appex C: Testing in Different Life Cycle Models

Agile Development and Testing
Sequential Development and Testing
Evolutionary Development and Testing
Se även en sammanfattning på softwaretestingstandard.org: [4]
Part 2 - Test Processes
Den andra delen i standarden behandlar testprocesser (och gör ett bättre jobb än mina tankar om Agil Testprocess).
En grundtanke är att man kan se testprocesser som tre lager av processer som har underprocesser:
Organizational Test Specifications (e.g. Organizational Test Policy, Organizational Test Strategy)
Test Management

Test Planning
Test Monitoring & Control
Test Completion

Dynamic Testing

Test Design & Implementation
Test Environment setup & Maintenance
Test Execution
Test Incident Reporting
Se även en sammanfattning på softwaretestingstandard.org: [5]
Part 3 - Test Documentation
Här kommer IEEE 829 i en lite upphottad tappning. För många kanske IEEE 829 är extremt tung och de kan 29119-3 också vara, men man kan skräddarsy hur man använder den och bara använda vissa delar.
Den innehåller även extremt pedagogiska exempel i ett gäng Appendix, med exempel på hur dokumentationen kan se ut i en agilt organisation respektive mer traditionell. Det finns även färdiga mallar i slutet som beskriver vad som ska (eller bör) ingå i de olika dokumenten.
De policys, dokument och rapporter som beskrivs är:
Organizational Test Process Documentation:

Test Policy
Organizational Test Strategy

Test Management Process Documentation:

Test Plan (including a Test Strategy)
Test Status Report
Test Completion Report

Dynamic Test Process Documentation:

Test Design Specification
Test Case Specification
Test Procedure Specification (försättsblad någon?)
Test Data Requirements
Test Data Readiness Report
Test Environment Requirements
Test Environment Readiness Report
Actual Results
Test Result
Test Execution Log
Test Incident Report
Jag gjorde ett tappert försök att visualisera hur de olika dokumenten händer ihop (en liknande bild finns i standarden):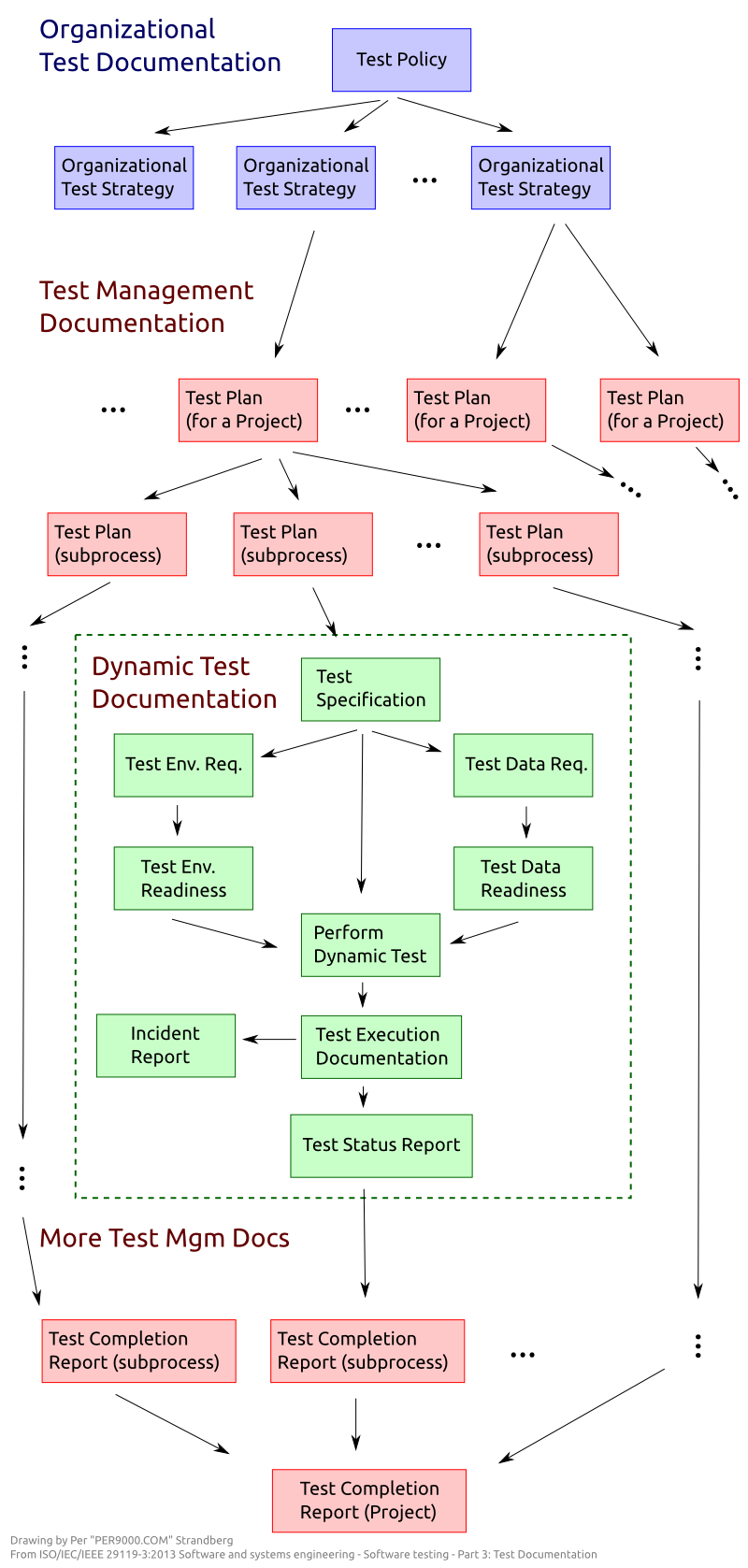 Själva strategidokumentet innehåller delar som är gemensamma för alla subprocesser man använder för test (till exempel en generisk riskanalys), men kan innehålla delar för varje subprocess: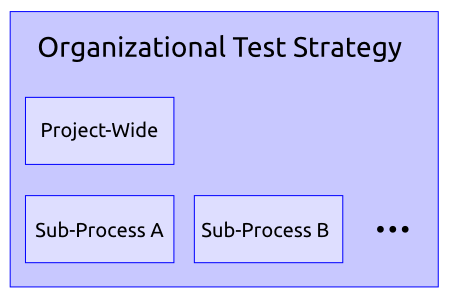 Se även en sammanfattning på softwaretestingstandard.org: [6]
Test Plan och Rapport
Jag gjorde nyligen en testplan och rapport som försökte följa 29119-3. Min kapitelindelning matchar inte helt den i standarden utan blev:
Test Plan
Overview and Introduction
Scope

Context
Projects and sub-projects
Stakeholders
Test Items
Test Scope

Assumptions and Constraints
Testing Communication
Risk Register

Product Risks
Project Risks

Test Strategy

Test Subprocesses
Test Deliverables
Test Design Techniques
Test Completion Criteria
Metrics to be Collected
Test Data Requirements
Test Environment Requirements
Retesting and Regression Testing
Suspension and resumption criteria
Deviations from Test Strategy

Testing Activities and Estimates
Staffing
Schedule
References
Glossary
Change Log
In the footer

Prepared by
Reviewed by
Approved by
Issued by
Unique Document ID
Document revision
Test Completion Report
Overview and Introduction
Scope
Testing Performed

Summary of Testing Performed
Deviations from Planned Testing
Test Completion Evaluation
Factors that blocked Progress
Test Measures
Residual Risks
Test Deliverables
Reusable Test Assets
Lessons Learned

References
Glossary
Change Log
Appendix A: Requirements Traceability
Appendix B: Possible Future Extensions
In the footer

Prepared by
Reviewed by
Approved by
Issued by
Unique Document ID
Document revision
Part 4 - Test Techniques
På sin hemsida listar 29119-gänget vilka testdesigntekniker som del 4 innehåller (se [7]). Listan är gedigen.
Test Design Techniques
Specification-Based Techniques

Equivalence Partitioning
Classification Tree Method
Boundary Value Analysis
Syntax Testing
Combinatorial Test Techniques

All Combinations Testing
Pair-Wise Testing
Each Choice Testing
Base Choice Testing

Decision Table Testing
Cause-Effect Graphing
State Transition Testing
Scenario Testing
Random Testing

Structure-Based Techniques

Statement Testing
Branch Testing
Decision Testing
Branch Condition Testing
Modified Condition Decision Coverage Testing
Data Flow Testing

All-Definitions Testing
All-C-Uses Testing
All-P-Uses Testing
All-Uses Testing
All-DU-Paths Testing

Experience-Based Techniques
---
Se även softwaretestingstandard.org: [8]
Bilden från XKCD är ritad av Randall Munroe och kopierad enligt Creative Commons Attribution-NonCommercial 2.5 License - se detaljer på xkcd.com [9].
---
Denna sida tillhör Kategori Test